e.Smart is a system for capturing data in pharmaceutical and medical device clinical trials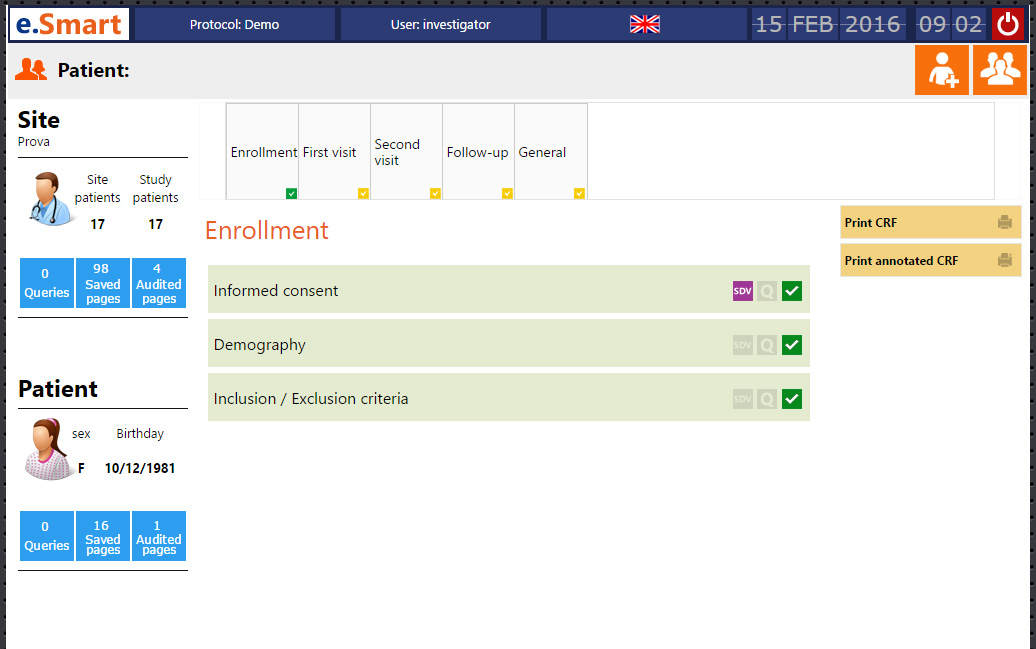 eCrf system – story and evolution
In 1999 Aram starts a project with Bayer Italia: the aim is to create a system for data entry of clinical trials.
So Aram develops a powerful engine for CRF clinical data management fully-validated with FDA requirements for collecting clinical trial data.
In a first phase the engine is engineered in client-server technology with a client interface for the eCRF development.
Our customers choose to left eCRF design in our hands saving resources and costs. In 2004 the engine becomes a "service": eCRF is designed by Aram.
In 2010 the system, following technology evolution, becomes fully Web and is named e.Smart web.
In 2010 is born cloud e.Smart platform with centralized services in cloud.
Our system is "easy to setup": about two hours and its "Ready to go!"
eCrf system – WHO
Our eCRF system is very flexible and can be used for very small studies and for big and complex ones.
Our customers are:
– Clinical Trial Professionals
– CRO
– Research Centers
– Medical Device Companies
– Pharmaceutical Companies
– Research foundations
– Scientific associations
– Indipendent institutions
eCrf system – Features
Our eCrf system is a high quality web application developed with deep clinical and software expertise. As a web system it is ALWAYS and EVERYWHERE available.
We use these main adjectives to describe e.Smart:
Simple because its interface, simply to use and intuitive, is always the same, for all studies. Personalization, such as sponsor or study logo are possible, for every study. A short and simple training is necessary at first study to understand all the process. After the first trial the interface is well known.
Fast because developed in efficient way using best programming tools. Once login with autentication is the way to access to more centres and patients.
Safe because is the evolution of a system used in more than 15 years, based on experience on the field.
Security is guaranteed by:
Authenticated access to the system in two different ways:
Login to the system with user name and password
QRAuth system access by smartphone.
FDA 21 CFR part 11 and CGP compatibility
Different user levels
Warning and alerts
Scheduled periodical backup
Last https certificate security
eCRF system – Validation
eSmart engine has been validated following validation procedures based on Risk analysis, following GxP requirements.
Data entry has these features that are maintained during all the clinical trial;
integrity
correctness
accuracy
quality
eCrf system – Architecture
The system is available in two different architectures according to customer's requirements.
The first architecture is suitable for Customer who wants a complete service and has these features:
eCRF development
use of e.Smart Cloud for the system and the services
No need of infrastructure installation.
The second architecture is for Customer who needs the system in his web architecture and has these features:
eCRF development
eCRF installation on Customer's Webserver
possible use of e.Smart Cloud services
eCrf system – Main functions
e.Smart innovative EDC platform has these functions:
autonomous management of the centers
Users type management
Users management, access by user and password
Insert of data of visits can be  subordinated to other data insertion
Edit checks inside a visit or between visits
Multilanguage
Drug management
Laboratory exams
Ongoing statistics
Integrated quiz and interviews
Personalized and punctual reporting
Query on going
Data entry and alert for Adverse Events (SAE)
Auditing on all pages and/or single device information
Paper CRF Printing
Vertical archiving of all activities
Final porting on DVD or CD ROM in certified pdf format
Snapshot export in different formats (Excel, Access, Mysql, Oracle,…)
eCRF system – Services
External flows integration
Medical devices communication
IVRS
Randomization
MEDDRA
Direct support to centres
 eLearning platform
laboratory and ranges management by center
gestione laboratori e range di laboratorio a livello di centro
eCRF system – Costs
Our platform is very competitive in costs. Our prices are calculated with an algorithm based on effective pages, checks, services and functions, number of patients.
eCRF system – The future
The future is mobile, also for Clinical Studies. We are developing e.Smart APP for IOS and Android
eCRF system – Curriculum
Aram develops medical and pharmaceutical software, data entry, clinical studies and medical devices interfaces.
If you want a demo access, a quotation or more details, please go to our dedicated site: